News & Media
Hinsdale Orthopaedics Welcomes New Elbow & Shoulder Surgeon
Dr. Robert J. Thorsness joins the team at Hinsdale Orthopaedics. Dr. Thorsness is fellowship trained in shoulder and elbow surgery.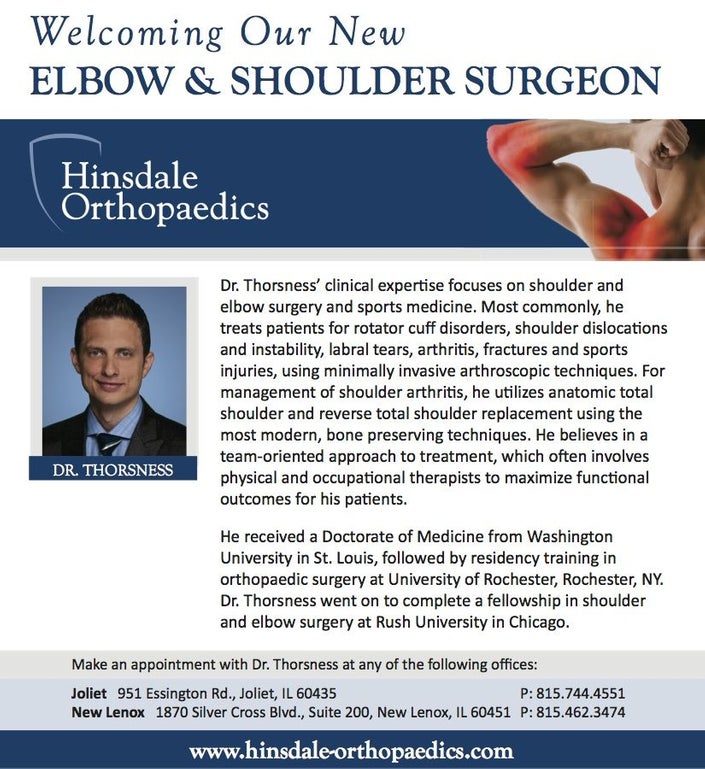 Dr. Thorsness' clinical expertise focuses on shoulder and elbow surgery and sports medicine. Most commonly, he treats patients for rotator cuff disorders, shoulder dislocations and instability, labral tears, arthritis, fractures and sports injuries. For management of shoulder arthritis, he utilizes anatomic total shoulder and reverse total shoulder replacement using the most modern, bone preserving techniques. He believes in a team-oriented approach to treatment, which often involves physical and occupational therapists to maximize functional outcomes for his patients.
He received a Doctorate of Medicine from Washington University in St. Louis, followed by residency training in orthopaedic surgery at University of Rochester, Rochester, NY. Dr. Thorsness went on to complete a fellowship in shoulder and elbow surgery at Rush University in Chicago.